Wild Cat (A Leopard Novel) by Christine Feehan
Release Date : November 24,2015
In the new Leopard novel by the #1 New York Times bestselling author of Cat's Lair and Leopard's Prey, passions explode like wildfire when a young woman's feral instincts are ignited by a man who's too dangerous not to desire…
A simple request for Siena Arnotto: deliver a gift to her grandfather's friend. One look at Elijah Lospostos, hard-bodied and stripped to the waist, and Siena succumbs to a feline stirring she never felt before, and to Elijah's reckless and pleasurable demands. But when that pulse-throbbing moment ends in the murder of an unexpected intruder, Elijah accuses the shaken and confused Siena of setting him up.
Then Siena discovers the truth of her Leopard heritage, of the secrets in her grandfather's inner circle, and the sinister plot of revenge that has put her in jeopardy. When Siena's grandfather is assassinated, she realizes the only man she can trust is Elijah. Now as her Leopard rises from within, Siena and Elijah share not only an animal instinct for survival—but a desire so raw and wild it may be the only thing that can save them.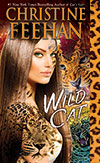 "SIENA, bella, come see your old nonno for a minute." Siena obediently dropped her car keys on the table and
hurried into the sitting room her grandfather preferred. The room was cozy and always just a little too warm. As a rule that didn't bother her, but for some reason lately, her body seemed overheated. She was restless and edgy and hot. Very hot. Her skin ached, felt too tight, stretched over her frame. Even her jaw hurt. Her breasts felt swollen and achy, and for the first time in her life, she burned between her legs. Like crazy. It was awful.
The condition seemed to come and go at will for no appar- ent reason. It had started a couple of weeks earlier and was getting significantly worse. She was grateful she had just earned her masters of science in oenology and had come home, although being in the same room with her beloved grandfather when her body was on fire was decidedly uncomfortable.